The Chinese are quite clever in blending foods with herbs for optimal health benefits, and they call it "yao-shi-tong-yuna", food as medicine.
This little green plum has gone through that same amazing transformation:from a sour fruit rich in minerals and digestive enzymes, to a functional healing food that cleanses the colon like no other!
Taiwan Guangyuan Biological Technology Co. Ltd (the present Taiwan Beautiful Four Seasons Biological Technology Co. Ltd), is a company specialized in developing and manufacturing functional foods. It first launched a fermented green plum in Taiwan in 1997. The formula was prepared by a renowned Taiwan food specialist Mr. GUAN Decheng.
As a product, the fermented plum has several different names in the market. Well known for its main function of expelling internal toxins and relieving constipation and indigestion, it has earned the reputation as healing food Taiwan and in most Asian countries.
In 2014, MiuMiu, a very smart business woman from Wenzhou, China, devised the brand name "Suibianguo (Gwogwo Fruit)" to introduce it to mainland China. Suibianguo literally means, simple and easy to use fruit, referring to the fact that the fruit can be eaten by anyone at anytime.
Besides selling at 100,000 boxes a day in mainland China, Gwogwo fruit has earned exemption of inspection from 52 countries; has received US FDA certification, Chinese QS Certification, Japanese QA Certification, Islam HALAL Certification, Taiwan CLIA Certification and International Laboratory CLIA Certification.


What is Share Plum (fondly known as Gwogwo)?
Share Plum (Gwogwo) uses top quality green plum as its carrier and mixed by honey with other three natural herbs and plants (mulberry leaf powder, cassia seed and semen pruni). This patented blend of fermented fruit with herbs has amazing healing effects on constipation, yet contains absolutely NO laxative. It's a natural food-herbal product using neither artificial flavoring nor any chemicals. Fermented and double packed in bags with nitrogen gas, it has no needs for any preservatives.
What do these herbs and plants do?
Green plum (青梅), or Prunus mume, or Qing Mei Guo in Chinese, contains abundant calcium, iron, sodium, manganese and other essential nutrients and organic acids that a human body must have. It is a common fruit in Fujian, Taiwan and its neighboring Asian countries.
Green plum was first applied medically by Chinese herbalists in the 5th century. It has long been used in traditional Chinese medicine as a great help in purification of blood, promotion of metabolism, digestion, detoxification and increasing the bowel movement.
Mulberry leaf power (桑叶粉), which Latin name is Folium mori, and Chinese name is Sangye, is rich in multiple trace elements, amino acids, vitamin C and antioxidants that are essential to human body. Among these elements, the most valuable are Rutoside and DNJ. The latest Chinese research has shown that Rutoside and DNJ are effective in regulating blood fat, balancing blood pressure, reducing blood glucose, and boosting metabolism. So they are widely used as ingredients in herbal formula for diabetes .
Mulberry leaf's main functions include anti-inflammation, anti-aging, anti-bacteria and virus and maintaining health, dieresis and sedation, reducing blood sugar, reducing blood pressure and blood fat.
Cassia Seed (决明子) is the Latin name for the Chinese senna juemingzi. Cassia seeds come from the cassia, an annual plant that grows wild in North, Central, and South America, Asia, Africa, and Oceania, and is considered a particularly serious weed in many places. The seeds threshed off the plant, and can be used either raw or after being fried.
In traditional Chinese medicine, cassia seeds are mainly used to treat congestive swelling and pain, dizziness and headache caused by the inflamed liver. It is used in combination with the other ingredients to clear the liver-fire and heat, and to relieve dryness and loosen the cumulative stools in the bowels.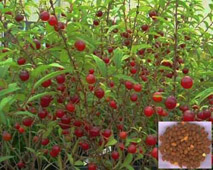 Semen Pruni (郁李仁), is mainly used to promote the movement of the bowels, aid bowel movement and urination, induce diuresis for removing edema, food retention and heat stagnation, abdominal distension and constipation.
What does honey do in Gwogwo Fruit?
Honey is a natural nutritious food which contains iron, calcium, copper, manganese, potassium and phosphorus and other multiple vitamins and organic acids. It has been used as both medicinal ingredient and as food. In Chinese medicine, honey is mainly used to lubricate the bowels, making the waste passing the through smoother and easier. Besides, honey in Gwuoguo fruit works as a sticky agent to mix the three herbs and plants together, and creates a coating around the green plum that has been fermented for a few months.
In China, these herbs and plants are regarded as both food and medicine, and they are quite safe and beneficial to human health. It is also important to know that the amount of each of the four natural ingredients is ingeniously and scientifically allocated to make the perfect Gwogwo Fruit. And to date, minimal sides effects have been reported. It is considered quite safe for men or women, old or young, regardless the constitutions or physical conditions of the person.
Who can benefit from Gwogwo Fruit?
1.  Relieve Indigestion and constipation

With different digestive enzymes, probiotics from fermentation, and the herbal blend, the Share Plum's key function is to help relieving indigestion and constipation.
2.  Reduce fat between internal organs

Share plum is designed to expel internal toxins in the organs, cleanse the liver and thus help get rid of fat between the organs.
3. Reduce effects from heavy tobacco and alcohol use

Plum is know to break down the alcohol and reducing the effects on liver and cells. With the herbal blend aimed at liver and colon cleansing, the Share plum is designed to reduce the adverse effect from smoking and drinking.
4. Relieve strong breath odor, acne, and endocrine disorder

With toxins in digestive tracks, acne, pimples and strong breath appear as results. By expelling toxins out of the digestive system, Share plum help clear and restore the skin to its natural radiance.
How to use the Share plum effective?
For general well-being and expelling internal toxins:
Take 1-2 Gwogwo Fruits every second or third day after a meal. Drink plenty of warm (room-temperature) water.
For relief of constipation:
For the initial week, take 1-2 Gwogwo Fruits per day before a meal; for the following weeks, take one Gwogwo Fruit every second or third day before going to bed. Drink plenty of water, do moderate exercise and take adequate rest.
For reducing visceral fat:
Take one Gwogwo Fruit half an hour or an hour before lunch and dinner. Drink plenty of water.
For reducing acne and pimples:
Take one Gwogwo Fruit before lunch and one before sleep at night. Drink plenty of water.
For reducing adverse effects from smoking and dringking :
Take 1-2 Gwogwo Fruits daily; for heavy drinking, take one Gwogwo Fruit half an hour before consuming any alcohol, and take another one immediately when feeling intoxicated to the hangover the next day.
CAUTIONS:

Drink plenty of water after taken Gwogwo Fruit.
Do not take Gwogwo Fruit simultaneously with other laxatives or drugs for loss of weight.
Do not take Gwogwo Fruit when pregnant or during breast feeding.
Do not use when nausea, abdominal pain or vomiting are present; stop taking the fruit if you experience severe diarrhea.
Do not use if the package is broken or open during transportation.
Gwogwo Fruit is not suitable for Children under 2 years.
Gwogwo Fruit is not suitable for people with severe peptic ulcer.
Gwogwo Fruit is not suitable for people who have had an operation or are suffering from other serious diseases.
Refrigerate Gwogwo Fruit after opening or half eaten.
Keep Gwogwo Fruit away from direct sunlight and humidity.